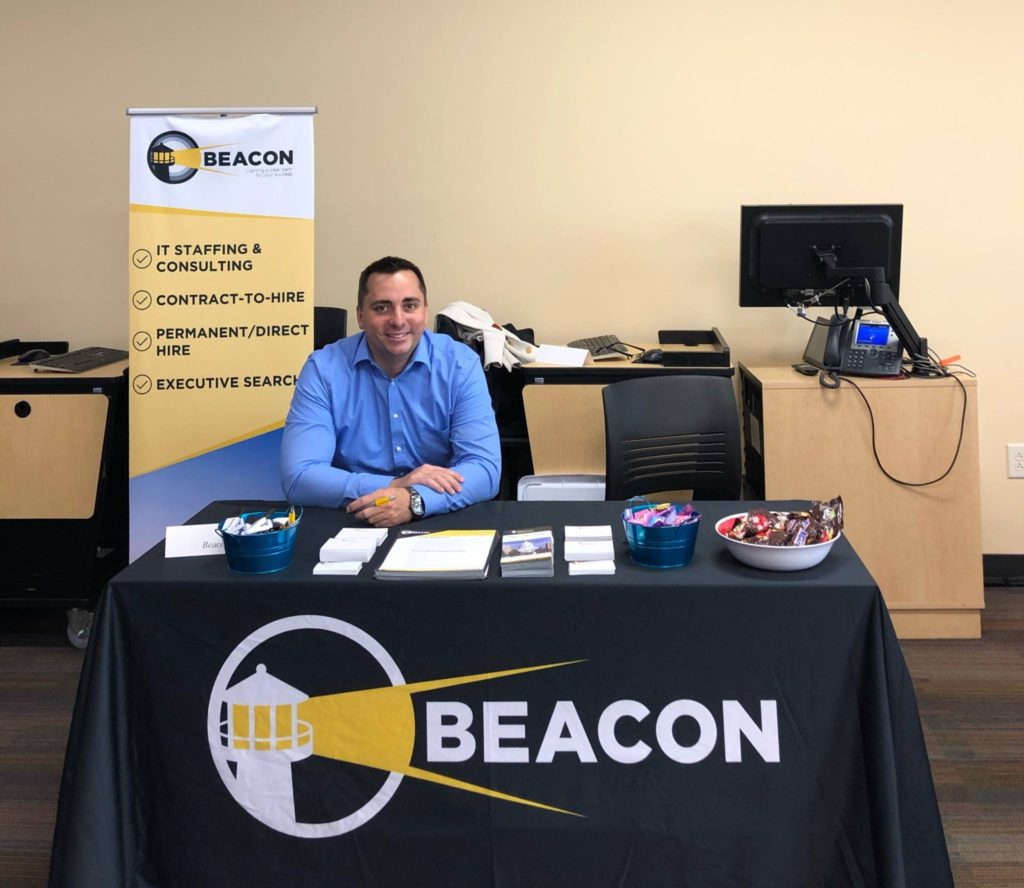 Beacon Technologies representatives spent two afternoons at the Madison Area Technical College Campus in October for their IT Career Fair Days. One day was focused on infrastructure positions and the other day was focused on software development positions.
We talked to many students attending the fair and heard many of the same questions. This presented an opportunity for us to compile those questions and share our common responses with anyone interested to know. Enjoy!
Question: What is Beacon Technologies?
Answer: Ask anyone at Beacon this question and we all have our own unique way to spin it. But, our brief description on our website describes us pretty well.
Beacon Technologies is a boutique IT staffing and IT consulting firm headquartered in Madison, Wisconsin. Our consultants can be found serving clients in Madison, Milwaukee, Green Bay, the Fox Cities and throughout the state. As a 20-year-old business, we have a proven method of hiring the best people, which is evident by the vast experience our long, tenured team brings to the table.
Question: What advice would you give on resumes?
Answer: Make sure to add technologies and tech stacks you are working with and incorporate those into the bullet points as well for the projects you have worked on. Be sure to add any projects that you have done as part of our degree program (and include the tech stacks used within those) and explain what your role was in the project or team. This will add credibility to your resume. And as always, don't forget to proofread your finished work or better yet, have someone else read it over.
Question: What certificates would you recommend pursuing?
Answer: On the infrastructure side, Cisco certifications are a good route to take. On the networking side, certifications with CCN, CCNP, CCNA, A+ are helpful. On the software side, we typically don't see new grads obtaining a lot of certifications related to software. Down the road, AWS certifications are something that a lot of clients are looking for in our candidates.
Question: Where should we find internships?
Answer: Beacon doesn't really offer internships. We would recommend looking at the large companies and organizations around Madison. Attending as many career fairs as possible and networking with many people will open up doors.
Question: What do job prospects look like?
Answer: On the infrastructure side, if you have no professional work experience, a helpdesk type of role will be a great way to break into IT or desktop support. On the software side, prospects are very bright!
Question: What happens if my first job I am placed at with Beacon doesn't work out?
Answer: It really depends on the placement. If it is due to attendance or your ability to do the job, well then, we will probably have to part ways. If you have success for a sustained period of time, but you are looking for a different placement at a new client or maybe even within the same client, we can work with you. If you do everything right by your client, we will be sure to find you a place where you will be happy.
Question: How long is the waiting process to hear if I obtained a position or not?
Answer: It really will vary greatly client to client, but generally up to two weeks.
Question: What would I need to provide to start the process?
Answer: Resume, cover letter, and a good personality. We will have you run through a technical screen with someone from our team as well to determine your technical expertise as well.
Question: What kind of positions or job titles are desired the most?
Answer: Positions involved in development, web, UI, full stack, open source, AWS, and security.
Question: Should I inform you of other jobs I am looking at outside of Beacon if I work with you?
Yes. We would never want to get into a situation where we submit you to a client for a position that another company has already submitted you for or that you have applied directly to. It will also help us to understand where you are in your search and can be helpful in getting you interviewed more quickly if needed in some time sensitive situations. We also have a lot of solid relationships with companies. Chances are good we may be able to use those relationships to your advantage. The bottom line is to be forthright with recruiters.
Hopefully these answers to our most commonly heard questions have been beneficial. If you still have unanswered questions, feel free to reach out to us at [email protected] and one of us will get back to you!